Post by liz on Dec 10, 2008 5:46:53 GMT 1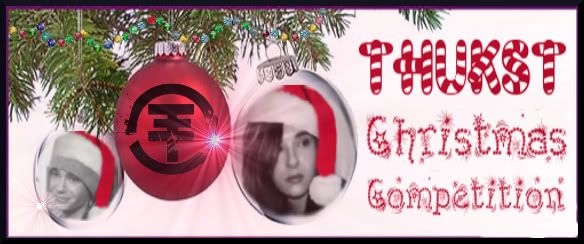 Ho Ho Ho Christmas is almost here and we want to make it even merrier! ;D
When THUKST admin attended the Tokio Hotel Fan Party in Hamburg on 30th November 2008, we did not only represent the UK (wearing our Union Flag pins

) but we also brought something back for you, the UK fans. This is your chance to win some cool prizes and to get creative! There are two options and two different prizes to our competition because we want to give you the chance to go with whatever option you feel most comfortable with.
Please note, you're only allowed to participate in one option.

Here are the details:
OPTION 1Prize:
The following band poster that has been
signed by all four band members
. You can see Bill with it at the signing in Hamburg in this pic:
And this band picture bag:
Competition task:
Design and make TH style Christmas tree decoration to make trees look even prettier.
This can be one piece or a set being one piece per band member. Material, size or style doesn't matter and is for you to decide. Take a picture (or two) and send it to our email address below.
OPTION 2Prize:
: This Twins poster signed by Bill and Tom:
This Gustav poster signed by himself:
This Georg poster signed by himself… and erm, also Gustav. See, you get
two Gustav sigs for the price of one
! *lol*
And this white TH writing and logo bag: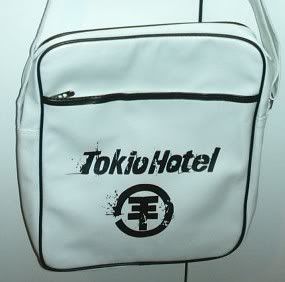 Competition task:
Most of you will know the Christmas song "12 Days of Christmas". Some of you might even know about all the different versions of it (just search on youtube and you'll find loads). We want you to re-word it and make it Tokio Hotel related. As an example you can watch this video to hear what was done for the Shrek style version of the song:
uk.youtube.com/watch?v=-UhcmUU0QpY
Ensure to make your entry about Tokio Hotel, that your words work with the melody of "12 Days of Christmas" and are sing-able. The style you choose for your lyrics is up to you but please keep the rules below in mind. Send your written down lyrics to our email address below.
Information and rules:
* The competition is open to
UK fans only
(meaning fans residing in the UK).
*
One entry per fan.
You choose whether you would like to participate in Option 1 or 2, either the tree decoration or re-wording the Christmas song. It is not possible for one fan to submit entries for both options.
* Keep it clean. Naughty and cheeky is welcome but nothing too explicit and no twincest please.
* Deadline for all submissions is
12 noon on Monday, 22nd December 2008
.
* Send your entries to
tokiohoteluk@gmail.com
* Winners will be announced on our website
www.tokiohotelstreetteam.co.uk
on 25th December 2008. There is a possibility that the best entries will be published on there together with the winning ones.
Please use our banner code to spread the word about this competition and get in the Christmas spirit.
Good luck everyone!
<a href="http://tokiohoteluk.proboards52.com/index.cgi?action=display&board=new&thread=999"><img src="http://i306.photobucket.com/albums/nn278/springnicht66/MY%20DESIGNS/THUKST_clicky_banner.jpg"></a>