Post by liz on Dec 17, 2011 21:30:52 GMT 1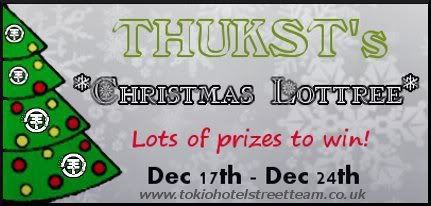 THUKST'S CHRISTMAS LOTTREE December 17th - December 23rd
It's time for our Christmas competition once again, and this year we've decided to have a Christmas lottery, so there's lots of chances for you guys to win some prizes! We're really excited about this year's competition because it's very quick and simple for you to enter, but we'll be giving away more prizes than ever before!
In the picture below you'll see our Tokio Hotel Christmas Lottery Tree (or 'Lottree' ... see what we did there?!) It's decorated with 50 baubles, numbered 1 to 50 and behind some of them we've hidden a picture of the following people or things ...
Bill, Tom, Gustav, Georg, candy, and some Christmas stockings. There's also a picture of Bill and Tom together and one of Georg and Gustav together.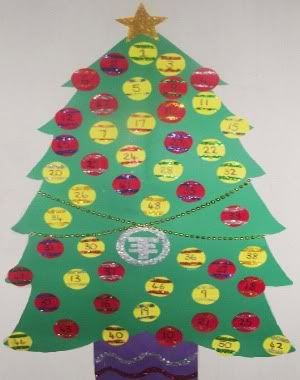 We want each of you to pick 4 numbers between 1 and 50. It's that simple! All you have to do is pick four numbers and email them to us.
Here's how the lottery will work and what you can win if you pick a ball with a picture on it.
*MAIN PRIZE
-
"Schrei" album limited edition with DVD and calendar poster plus a "Leb die Sekunde - Behind the Scenes" DVD, a mystery Tokio Hotel related item and some Christmas candy!
The person who finds the most members of the band (this means the baubles which have Bill, Tom, Gustav or Georg on them, NOT the twin or Gustav and Georg ball) will win the main prize. Even if you only pick one member, you might still win if no one else finds them! If there is more than one person who has either one, or two balls with a band member on, then we will settle it with a draw. Finding a band member DOES NOT guarentee that you win a prize. You must have the most band members or at least the same as someone else to be in with a chance to win.
In edition to the main prize you can also win some other prizes if you pick any of the following balls -
*THE TWIN BALL and the GUSTAV / GEORG BALL
-
pick either of these and you will win a single CD, a Bill "Passion for Music" cotton bag and some Christmas candy. If you are lucky enough to pick both these balls you will recieve two different CDs, one bag, candy and a mystery Tokio Hotel related item. If too many people pick the same balls we will settle it with a draw.
* A CHRISTMAS STOCKING
-
if you pick a ball with a Christmas stocking on it you will win a 'stocking filler' prize which will be a mystery Tokio Hotel related item and some Christmas candy. Everyone who picks these balls will recieve a prize.
* CHRISTMAS CANDY
-
if you pick a ball with a picture of candy on it, you will win a selection of Christmas candy. Everyone who picks these balls will recieve some candy.
Please be aware that
NOT ALL THE BALLS ARE WINNING BALLS
. You might be unlucky and pick four balls with no winning picture. But we hope that doesn't happen and with 4 numbers to choose you have a fair chance to win at least one prize!
The MAIN PRIZE will definitely be won. In the event that no one finds at least one band member, the prize will be given to the person who picked a ball closest in number to a band member ball.
The competition will run from

Saturday, December 17th until Friday, December 23rd.

We will then turn over all the balls and announce the winners on Chistmas Eve

[/color]
The competition is open to UK and Ireland residents only.
But please don't feel left out if you're in another country. We have a little surprise for you guys coming very soon!
HOW TO ENTER
It's very simple! Just pick the four numbers you would like and email us with your full name and where in the UK or Ireland you are from (town/city only), followed by the 4 numbers you have chosen. Please send your email, with '
THUKST Xmas Comp 2011
' as the subject, to
tokiohoteluk@gmail.com
Any email received AFTER December 23rd at midnight UK time will not be accepted, so please make sure you send your emails before then.
If you have any questions you can ask here on the forum, on the
website
(please leave a comment on the competition post), tweet us @tokiohotelukst or email us at tokiohoteluk@gmail.com
GOOD LUCK EVERYONE!
[/center]