Post by midori on Nov 19, 2010 7:34:42 GMT 1
So, you might have heard the news that TH will be releasing a Best Of album next month?!! (Unfortunately, no UK release for us but oh well, Amazon UK might have it again or HMV and Play.com getting imports again... we'll see.
)
What do you think about the cover artwork and setlist? Opinions and thoughts...
There will be a brandnew song (with a rather cool title) and also one of the old Devilish gems (Schönes Mädchen aus dem All) which might be new to some people. Personally my Devilish fave is Grauer Alltag but this one comes second. It's cute and funny and goes oh so well with the latest space/alien theme. I think it's awesome that a Devilish song will be included.
Thanks to the
Canadian FC
and Universal Canada for the setlist info!
*click for bigger pic*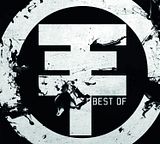 ARTIST: TOKIO HOTEL (Deluxe 2xCD + DVD)
TITLE: BEST OF (Deluxe CD+DVD)

ARTIST: TOKIO HOTEL
TITLE: BEST OF (Regular CD)
TRACK LISTING:
CD 1: English album (In regular 1CD version as well)
1. Darkside Of The Sun
2. Monsoon
3.
Hurricanes And Suns (New Track - 2009)
4. Ready, Set, Go!
5. World Behind My Wall
6. Scream
7. Automatic
8. Phantomrider
9. Break Away
10. Final Day
11. Forever Now
12. By Your Side
13. Rescue Me
14. 1000 Oceans
15. Noise
16. Don't Jump
17. Humanoid
18.
Bonustrack: Mädchen aus dem All (2003)CD 2: German album (in deluxe version only)
1. Durch Den Monsun
2. Der Letzte Tag
3.
Mädchen aus dem All (2003)
4. Übers Ende Der Welt
5. Schrei
6. An Deiner Seite (Ich Bin Da)
7. Spring Nicht
8. Automatisch
9. Lass Uns Laufen
10. Geisterfahrer
11. Ich Brech Aus
12. Für Immer Jetzt
13. Rette Mich
14. 1000 Meere
15. Komm
16. Sonnensystem
17. Humanoid
18.
Bonustrack: Hurricans And Suns (Neuer Titel - 2009)
Bonus-DVD (in Deluxe version only)
Videos
1. Durch den Monsun
2. Monsoon
3. Schrei
4. Scream
5. Rette Mich
6. Der letzte Tag
7. Wir schließen uns ein
8. Übers Ende der Welt
9. Ready, Set, Go
10. Spring nicht
11. Don't jump
12. An deiner Seite
13. By your side
14. Automatisch
15. Automatic
16. Lass und laufen
17. World behind my Wall
18. Darkside of the sun
Making of
1. Making of "Monsoon"
2. Making of "Schrei"
3. Making of "Übers Ende der Welt"
4. Making of "Spring nicht"
5. Making of "Automatic"
6. Making of "World behind my wall"