Post by midori on Aug 22, 2010 19:28:55 GMT 1
I love the DdM video so much as a whole. I think it turned out really well and is so lovely to watch with that song. Great atmosphere etc. Sometimes it annoys me when the guys slag the video off and say that they don't like it. *pfft* Totally disagree but yeah, I can understand where they're coming from. I guess most people don't like to look at "older" stuff and especially when they were
little
. It's a bit like looking at old photos of yourself, I guess. *lol*
Anyway, it's posted on the website but I thought it won't hurt to have the BRAVO article about the video shoot on here as well.
Bravo # 34, 2005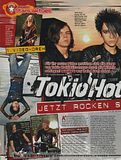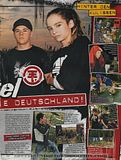 Scans by Beertje_86
1ST VIDEO SHOOT - TOKIO HOTEL
NOW THEY'RE ROCKING GERMANY!For their first video the boys from Tokio Hotel had to fight their way through the wilderness being soaking wet! BRAVO was at the shoot...
(original German text: Sascha Wernicke)Middle band picture: Tokio Hotel: Georg (18), Bill (15), Gustav (16) and Tom (15, left to right). Their first single "Durch den Monsun" has been available since 15th August...
Tom picture: Refreshing: Tom enjoys being sprayed by a rain machine in muggy weather while he's rocking out...
Bill picture: Exhausting: Bill had to dangle [headfirst] from a bar over the "Langen See" for one scene
Georg picture: Sexy: Georg's wet t-shirt look in the video is an eye-catcher for girls
Gustav picture: The band's clown Gustav also manages to play the drums with (man-made) continuous rain.

Tom grumbles: "There are creatures here and it stinks!"
PAGE 2
BEHIND THE SCENES
Top Bill picture: Bill at the buffet: sandwiches are enough for him. Others prefer to wait for a Schnitzel.
Tom picture: Tom's wet dreadlocks need two days to dry despite the turban made out of towels
Bill & aquarium picture: What can't be seen in the video: Bill's underwater scene was only shot in an aquarium
Twins picture: Vain twins: Tom twists his dreads, Bill checks his manga hairstyle
Clothes picture: Wash day? No, the boys' clothes are supposed to dry off on a fence.
Middle, bottom Bill picture: Unfortunately there is no bed in the cornfield for him: singer Bill has to give it his all despite lacking sleep
[nb Saying "kein Bett im Kornfeld" is a little reference to the song "Ein Bett im Kornfeld" ("A bed in the cornfield") which was a huge hit song in Germany, a cover of the original "Let your love flow" with (different) German lyrics. Stefan Raab also did a remake of the German song in 1995... you can guess what that turned out to be like or have
a look
. XD ]
Band picture: There is a boar enclosure next to the cornfield – so that's what it smells like. However, it's not an option for Tokio Hotel to hold their noses during the shoot...

Georg moans: "I want to go to bed already!"
Bill dangles headfirst from an iron bar, clings to it only with his legs. The water of a lake sparkles directly underneath him. For how much longer will the singer of rock newcomer Tokio Hotel be able to keep on holding on to it? Bill is exhausted. He only slept one hour and is completely soaking wet because of the water a rain machine is spraying him with. And despite all that he still gives everything in front of the rolling cameras. Because this is about the first step towards a big career for him and his band: Tokio Hotel are shooting their first video! BRAVO is there [with them] exclusively! The four students from Magdeburg rocked out until late the previous night. Nevertheless, Bill and his colleagues Gustav, Georg and Tom had to get up at 7am again and be good to go. At the "Langen See" in Leuenberg nearby Berlin, right in the middle of nature – even though those four are real couch potatoes! Tom's first comment: "There are creatures everywhere here and it stinks of sh*t!" However, there's no time left to whine: the video has to be finished by the evening. [there are] 20 staff members on the set. A stylist powders the boys their noses – they sweat because it's so muggy. Luckily director Sandra shoots with lots of water suitable for the song title "Durch den Monsun" ["Through the monsoon"]. And that's why Tokio Hotel are already soaking wet after 90 minutes. Bill has to put his head into an aquarium for one scene. "Good thing, that my kohl is waterproof", he laughs. In the afternoon they're off to the next location, a cornfield. First of all, Schnitzel and fries are provided. Then the shooting continues. "I want to go to bed already!" Georg moans. However, they only call it a day after 15 hours. The work paid off – BRAVO has already seen the video: it's wicked! Tokio Hotel rock Germany: more and more fans, more and more readers' letters! The Tokios work for their success while other students are on holiday: "We want that everybody can sing along to our songs. That would be an amazing feeling!"