Post by liz on Jul 7, 2010 0:24:52 GMT 1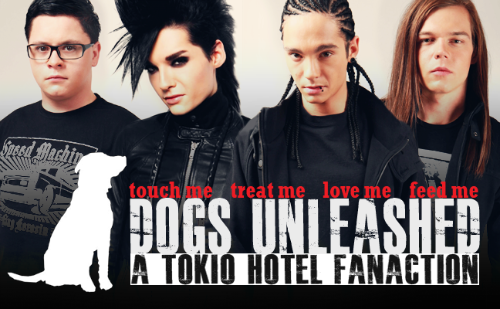 I'm really excited to tell you about the
Dogs Unleashed
project! Some of you might have noticed that THUKST are not supporting the Love Unleashed project, but it's not because we don't support shelters and animal welfare! Oh no! We had already pledged our support to the Dogs Unleashed project, which is an Official Tokio Hotel FC project, and was already announced and underway ;D
So what is this project and how does it involve us?
Dogs Unleashed was masterminded by Inger-Helena and Siiri from the Official Estonian Tokio Hotel Fanclub. Inspired by the love and compassion the band have for animals, particularly dogs, they decided to bring the fans together for a fanaction that not only celebrates our love for Tokio Hotel but also offers support to animal shelters around the world!
From Inger-Helena and Siiri...

The purpose of this project is simply doing something good together and spreading unconditional love. We believe that animals need just as much attention as human beings and that they need our help even more because they are unable to speak for themselves.
This is were WE come into it! On
JULY 17th
, the day we have chosen for THUKST's participation in Dogs Unleashed, we want YOU to give your support to your local animal welfare shelter.
What we would really like you to do is arrange to visit your local shelter, on
JULY 17th
, and offer your services for the day (for free of course, lol!). They might like you to walk some of the dogs, help clean out cages, or just play with some of the animals. You can talk to them about what would help them the most.
If you are unable to offer your help in that way, or your local shelter, for some reason, cannot accept you as a volunteer on that day, there are a number of other ways you can still offer your help. Here's a few suggestions, or you may have your own ideas about how you could help.
* Shelters will always appreciate toys, blankets, towels, pet food, treats (only those made specially for animals), pet beds etc. If you have any of those things spare you could make up a donation box to take to your local shelter on JULY 17th. Please be sure everything is in a nice clean condition

If you're going to make up a donation box, let me know and I'll make you a slip to put with it so they know it's from the Dogs Unleashed project.
* If you can't volunteer at the shelter ask if they would like your help doing something else, such as handing out leaflets. If you can do that on July 17th, even better!

* Organize a jumble sale and donate the proceeds to the shelter. This will probably not be achievable by the 17th, lol. But it will still count towards the Dogs Unleashed project.
* Some of the larger shelters (these are often available online also) run schemes where you can sponsor a dog. You 'll recieve a certificate, photograph and updates on your dog and his / her welfare. These cost money - usually a few pounds a month. Perhaps something several people might like to consider doing as a group? Please check that the charity is genuine and reputable though!
That's just a few ideas if you can't go to a shelter yourself on JULY 17th. You can be creative and come up with your own ideas also, but if you CAN go to a shelter and volunteer, please do!
PLEASE REMEMBER TO TAKE LOTS OF PICTURES AND VIDEOS OF WHATEVER YOU DECIDE TO DO!
Post them here or email them to us:
tokiohoteluk@gmail.com
If you have any questions at all, you can ask them here. As some of you already know, I work at a dog rescue center, that is also home to a host of other animals too, lol. So I'll help as much as I can. ;D
Finally, you can click this link and check out the
Dogs Unleashed Blog
. Don't worry if you see other dates being discussed there. Not everyone is doing this fanaction on the same day.
The UK day is JULY 17th!
So everyone, locate your local shelter and start making plans! ;D