Post by midori on Jun 18, 2010 21:38:57 GMT 1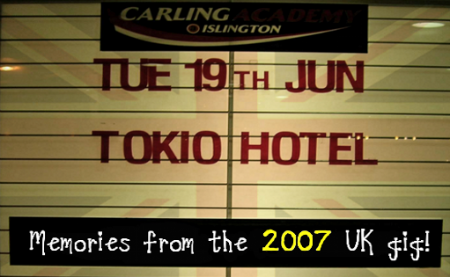 THUKST invites you all to join us on a little trip down memory lane tomorrow, 19th June. Every year we remember the anniversary of Tokio Hotel's concert in London and when it was the 3rd anniversary we put together this trip down memory lane. There's no better excuse for focusing on the laughs and fun times and to share them all with each other.
Bring on nostalgia and have a look at
tokiohotelstreetteam.co.uk/band/th-live/live-in-london-2007/
And of course, feel free to use this thread to talk about anything regarding our posts tomorrow. We're hoping you'll enjoy it. ;D
********************
We really had some fun yesterday and hope we could pull some interesting posts together for you. Here's a list with the direct links to all the posts for the people that couldn't be around yesterday. In the order they were posted:
*
A Trip down Memory Lane... (introduction post)
*
Report & Pics by Nash
* Ticket picture
*
Setlist and Ready, Set, Go!
*
Rock Pics article
(interview & concert review translation, including pictures)
*
Final Day and more pics!
*
Concert pictures by Starshine
*
M&G winner Jasmine's report
(including M&G and live pictures)
*
Break Away and Don't Jump
*
Raise Your Hands and a humourous moment!
*
Concert pictures by Ziggy
*
Claire's report: Tokio Hotel live in London
(including many great HQ pics!)
*
Monsoon and Love is Dead
*
Concert Pictures spam
(including some professional HQs)
*
Katie Spain Gig Review
(including live pictures)
*
Sacred and On The Edge
*
Concert pictures by meridian_star
(HQ)
*
Scream!
*
Scrapbook from THUKST
(including pictures)
*
The Encore – Rescue me and By your side
*
Almost the whole gig to watch in one go
*
Final post: Band at hotel the morning after & the "Bad Bill"
XD
And the best for last: Robyn was kind enough to put together a video of the complete gig with different video footage recorded and put online by fans who attended the show. Many thanks for the work you put into this, Robyn!